Thoughts
Back to the (future) in Person Events!
A priority
"Networking is not-working", I remember hearing this for the first time and thinking there's truth in that but when you think about the sheer importance of rubbing shoulders with peers, learning from each other and those spontaneous moments of bumping into someone who then, over time becomes such an important business relationship or even good friend… How wrong can that statement actually be!
Since I started business in 2008, I've always prioritised meeting people, from local business breakfasts to attending international conferences. For me, I knew it was vital to go and meet people, learn from them and explore ways to support or collaborate with each other.
The 18 months gap
Of course, as we're all so painfully aware, things changed dramatically in the Spring of 2020, for not just the event space but for the whole world. My heart went out to event organisers and conference owners/teams. We, at DHD witnessed both the panic and pivot of moving from the physical to the virtual. For me this was highlighted by the fact that we had to cancel flights to Tel Aviv, Charlotte NC, and Mexico in March 2020. The 4 trips that I annually took to deliver branding workshops to American Universities also switched to virtual.
While the pandemic forced these much loved events to either stop or pivot at lightning speeds and go online, there are many events and conferences I'm sure also had to sadly cease to exist.
Online and Virtual events were the go-to and only alternative for many but within weeks many were longing to be back in person, and while many appreciated the efforts of those who moved online, it was so clear why we missed the physical events, nothing could replace the need to socialise with people over food, be part of the buzz of an event or see the whites of people eyes.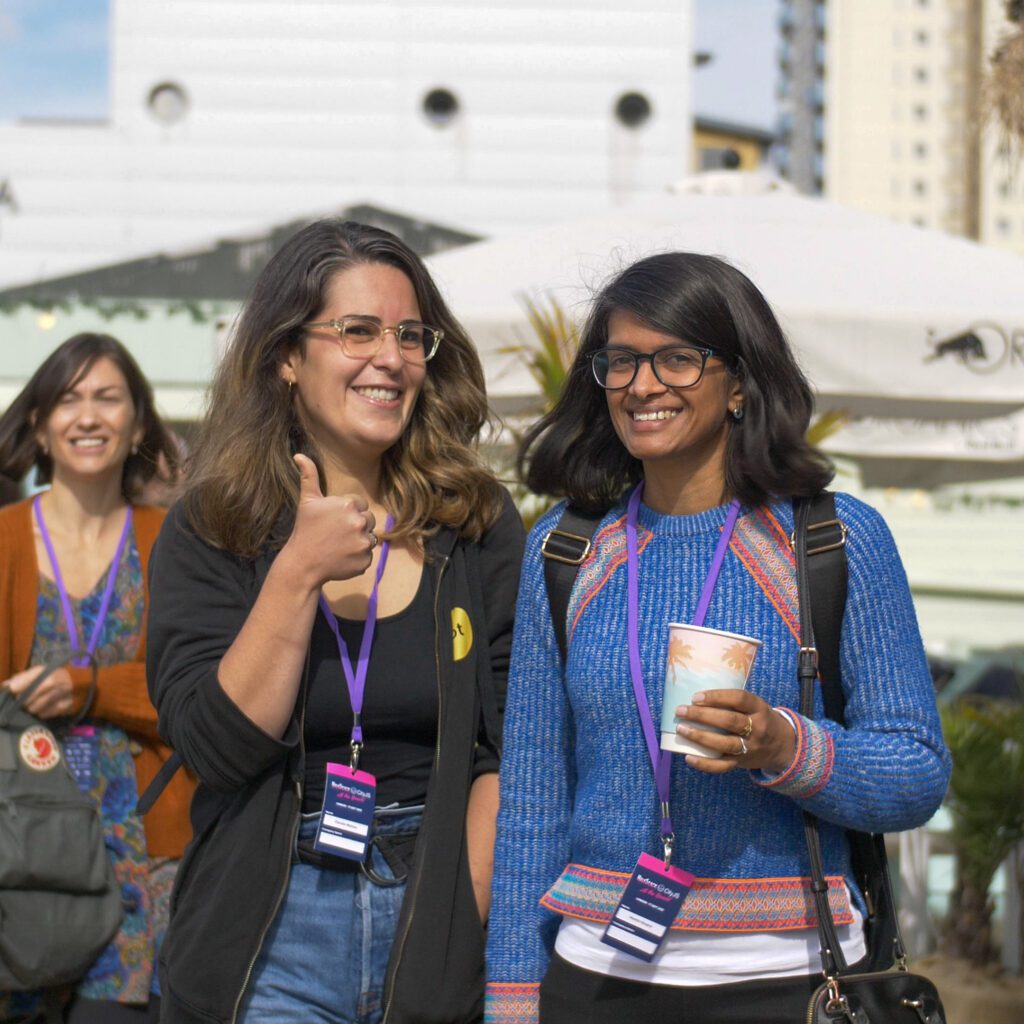 Back with a Bang!
I was delighted to hear in early 2021 that some of our most loved conferences and events were planning to be back, and sure enough between mid September to early November the DHD team got to all 3!
First off, 5 of the DHD team flew to London to attend (and sponsor) our amazing clients (and friends) at Halfstack.  Halfstack joined forces with CityJS to run their first in-person event back since January 2020: "Halfstack / CityJS: At the Beach" located at Fulham Beach Club, in London, overlooking the Thames. We had a blast and it was so clear to see how people were delighted to be back again, catching up on how they adapted to the changes we all faced and of course learning from each other. We had been working with Dylan & Aris to help design merch, promote on social & brand the new feel to Halfstack, so it was so good to be there.
Next, our friends at Digital DNA announced it was back in person in St George's Market, 28th & 29th September Belfast for a 2 day event. It was so good to see so many familiar faces and I had the privilege on speaking on stage with Niamh MacAuley on 'Let's make social, social again".
Then in early November I headed back to sunny Lisbon (with a Mr Johnny Rogan) for my 6th trip to Web Summit. While there was still tens of thousands of people coming together, it was clear to see that the numbers had dropped significantly since I was last there in 2018. Again the 4 day conference was filled with many amazing speakers, conversations and lots of food. The general atmosphere was people, while being sensible and safe as possible, were delighted to be back networking with each other again.
A special thanks has to go out to all the organisers and event teams who took the brave decision to go for it and host events and conferences last year and this year while planning all the additional logistics to keep us all safe as possible.
What next?
Of course, we are all aware we're not out of the woods just yet – omicron taught us that! But as we hopefully move out of pandemic in the months ahead there seems to be a growing optimism that brighter days are ahead. So in my opinion the need for people coming together, (in a safe and sensible way) after the last two years, is more important than ever.
Humans are social, we need to continue to meet, to learn, to collaborate and to do, for me, what business is all about – build relationships! Hope to see you at an in person event soon. 😉
David.
Join Our Team
We're always on the lookout for talented individuals to join our growing team.